The day Cali Clark, DO, graduated from high school, the country's deadliest tornado in more than 60 years ripped a 6-mile path through her hometown. About three fourths of Joplin, Missouri, was damaged, and 161 people died.
Ten years later, Clark graduated again. This time, she was part of the first graduating class of Kansas City University's School of Osteopathic Medicine, in Joplin. The medical school was built in the tornado's aftermath on the site of a hospital the tornado destroyed.
"They had talked about building a medical school in Joplin for, like, 10 years prior to it coming," Clark said. "But nothing ever came to fruition. And then the tornado happened."
The Costliest Tornado in US History
Joplin is near the Kansas and Oklahoma borders in southwest Missouri. It is less than an hour's drive from Arkansas. Tornadoes are common. "We're called 'Tornado Alley,' right? We get a fair amount of tornado watches and warnings," Clark says. "But usually they're an F1 or an F2," which are the lowest categories of tornado on the Fujita intensity scale and are "nothing to worry about," he says.
The tornado that hit Joplin on May 22, 2011, was an F5, the most destructive kind. Wind speeds were over 200 mph. In addition to being one of the deadliest tornadoes in US history, it was the costliest, causing $2.8 billion in damage.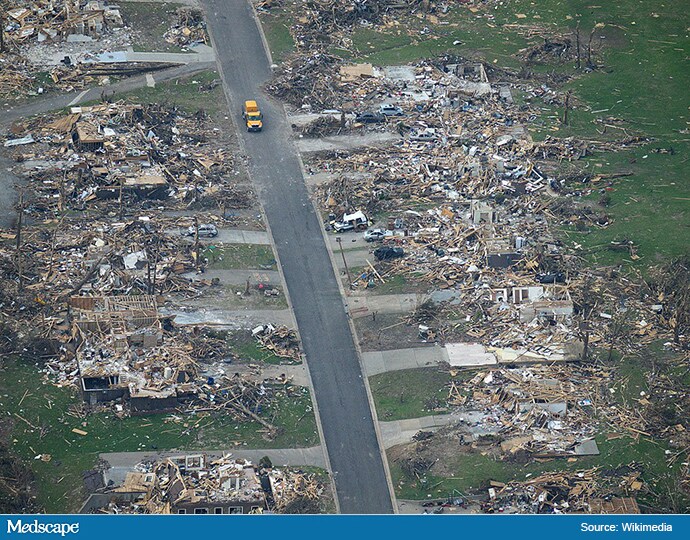 Joplin, Missouri, in the wake of the tornado in 2011.
More than 8000 buildings were damaged, including St. John's Regional Medical Center, one of the two hospitals in the area. According to news reports, 183 patients were inside the hospital when the tornado hit; 25 were in the emergency department. About 100 staff were on duty that night.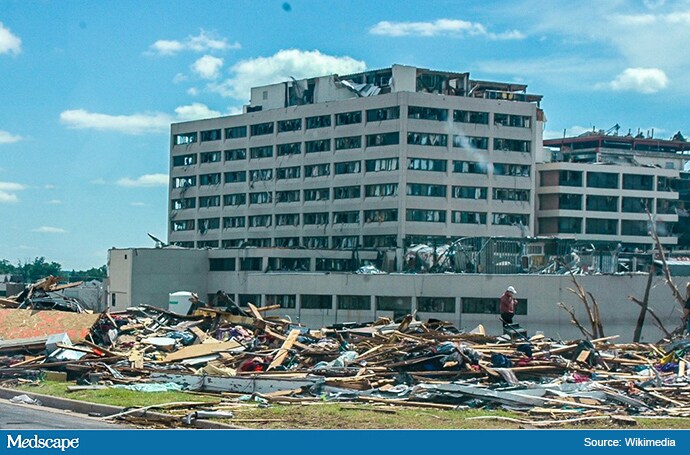 St. John's Regional Medical Center was destroyed by a tornado.
The tornado devastated the facility. Windows exploded. Steel beams supporting the roof twisted. Water pipes broke, ceilings caved in, and backup generators were ripped from their anchors. Five patients died. When the storm was over, the hospital was destroyed.
Clark's family was lucky: Their home had just minor damage. The broader community had been devastated: The tornado destroyed about 25% of the city and caused damage to more than 75%, the National Institutes of Standards and Technology estimated.
Like many others in Joplin, Clark and her family rolled up their sleeves and got to work, volunteering to clear debris and helping families dig through the rubble, searching for wedding albums and family photos. "It was those moments when I felt that emotional aspect of what happened, because you're almost in a state of shock ― so many houses were leveled, and it was hard to emotionally process that," she said. "But when you find a picture that a family really wanted to have again, it was a tender thing. It brought some humanity in."
"The Pope Had to Sign Off on This"
While Clark was working on her undergraduate degree, community leaders in Joplin were working to finally bring a medical school to the city. Marc Hahn, DO, president and CEO of Kansas City University (KCU), said that when he started as the university's president, he met with leaders in Joplin, who "put forward an impassioned plea" that KCU consider building a satellite medical school campus in their city.
"The need was great, there was no question about that," Hahn said. "And Joplin's physical location in the southwest corner of Missouri meant that we could have an impact on a four-state area. But for us to do this, we would need help."
Hahn said the KCU College of Osteopathic Medicine considers providing healthcare to underserved populations a core part of its mission and that more than 40% of the college's graduates go on to work in rural parts of the region.
"The community really saw this as an opportunity to address some of their medical and healthcare needs, but also saw this as an opportunity for economic development, and that was crucial for this community that was devastated by this tornado," Hahn said. "And we saw that, and we also saw this as an opportunity for us to make a difference in healthcare."
Again, Joplin got to work.
The city raised some $40 million to build the medical school, Hahn said. Mercy Hospital Joplin, which owned the St. John's hospital site, donated that land for the school. The Federal Emergency Management Agency had built a temporary hospital after the tornado. That building became the first home of the new medical college.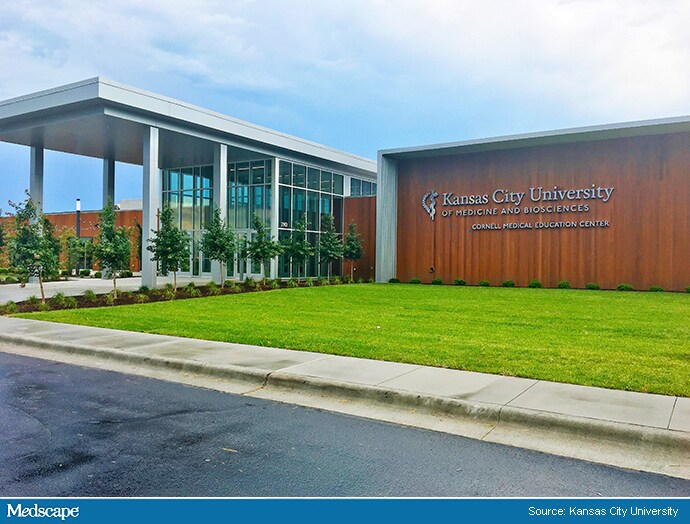 A new medical school was built on the site of the hospital that the tornado destroyed.
"In many ways, it was like the phoenix rising from the ashes from mythology," Hahn said, "because this is where the hospital was destroyed, and now from those new ashes comes this new medical school."
The project even seemed to be sanctioned from on high ― because Mercy is a Catholic hospital, the land donation required papal approval. "The pope had to sign off on this," Hahn said.
Healing a Region
KCU Joplin admitted its first class of medical school students in 2017. This May, they graduated 131 new physicians. The ceremony was held at Missouri Southern's arena ― the same place where Clark graduated from high school the day of the tornado.
About 50 of them are staying in Missouri for internships and residencies. "Our hope is that many of them will end up staying in the region to address a lot of the medical needs, but time will tell," Hahn said.
Clark intends to be one of those who stay. "When I was younger and headed to college, I was, like, 'I'm going to get out of here,' " she said, "and I did do that for 2 years. I went to Springfield. But I wanted to be back where home was for me." She is currently working through an internal medicine residency at the Freeman Health System, in Joplin.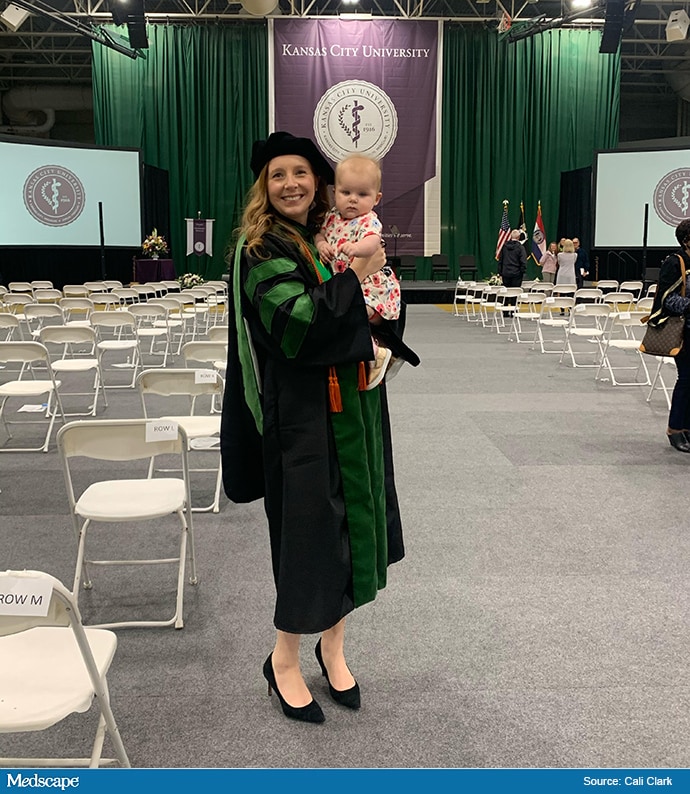 Cali Clark, DO, and daughter at the first graduation for the new school.
"For me personally, what's going to bring me joy is treating people here in Joplin, the people who are here and are such a huge part of my life," she said. "You can go anywhere and treat people with diabetes or heart failure, and so I had to figure out what made the difference for me in where I wanted to be. And for me, it was being with people who love me and know my family and are the people I grew up with."
In the decade since the tornado, Joplin has rebuilt itself, literally. Thousands of new homes and dozens of new businesses have been created. Hahn said that when he visits Joplin now, he sees new coffeeshops, restaurants, and a vibrant community. KCU is continuing to expand there, too. On May 22, the 10-year anniversary of the tornado, the university broke ground on a new dental college.
"We decided that a college of dental medicine makes sense in rural Missouri," he said. "And that groundbreaking was part of the citywide celebration of the rebirth of the community, and in 2 years, we'll start accepting dental students as well."
That college is being built near the college of medicine on the same site as that hospital the tornado destroyed.
Laura Arenschield is a Columbus-based, award-winning reporter for MDedge. She has been writing about science and health for more than a decade.
For more news, follow Medscape on Facebook, Twitter, Instagram, and YouTube. Here's how to send Medscape a story tip.
Source: Read Full Article