With just over a month to go before the Tokyo Olympics kick off in July, Mo Farah is yet to qualify for the Games. But ahead of another attempt at the qualifying time later this month, Farah's training hasn't slowed down one bit.
In an interview on The Joe Wicks Podcast, Farah said that on a typical day, he'll have a little toast for breakfast, before going out for a 10- or 12-mile run between 9am and 9.30am. When he has come back and showered, he might answer a few emails before taking a nap. In the afternoon, he'll go for a light jog, covering five or six miles. In total he will usually run 17-18 miles each day, apart from Sundays, when he will often do a 20-mile run.
Asked about his high-mileage training regime, Farah told Wicks, "You have to be able to put in the work."
"Anything is possible in life if you condition yourself, condition your body – you can get through it."
He added: "With me, I have to run that kind of distance and condition my body. I'm not just going to turn up at the Olympics and try and win off the back of one month, two months, three months – it's the whole leading up to it. Condition your body, get yourself in the best shape that you can."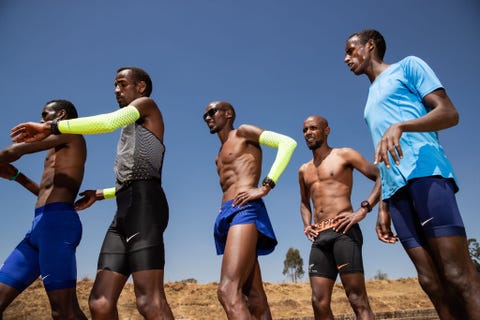 Speaking to Athletics Weekly in April last year, Farah explained how the treadmill played an important role in his training: 'I've done a six-mile tempo on the treadmill, that has been my hardest session. I did a six-mile run and then a hill session on there too.
'I've done a long run on there, 15 miles, he added. 'The longest I've ever done is 22 miles on the treadmill.'
Core exercises are also high on Farah's list of priorities. In a video posted to YouTube in 2017, he showed viewers a range of exercises that he uses to keep his core in shape, including Russian twists (with a medicine ball), oblique crunches, bent leg crunches and hand to foot stability passes (utilizing the medicine ball again).
Farah has also said that he does weight training 'throughout the year', depending on what event he is training for. One workout might see him performing six squats with a 40kg barbell, followed by 10 reps each of some basic free weight exercises, using 10 or 20kg weights. Farah will often do three sets of that circuit, followed by some core exercises.
In an interview with GQ, Mo revealed that getting plenty of sleep is also a key strategy. Sleep and rest is the most important thing, more than running. If your body's not ready and hasn't fully recovered, it's difficult to ask it to do something because it doesn't have the energy.'
When it comes to his diet, for breakfast Farah revealed he typically eats porridge or toast, with chicken in a sandwich or salad for lunch. His evening meal usually consists of chicken or salmon and rice, steaming instead of frying where he can.
His weak spot? Haribo, Farah admits: 'Sweets tend to derail me. I have got such a sweet tooth. For me, it's very hard to stay away from them. I love Haribo, in particular. Often, after a training suggestion, you're just craving something sugary and that's my go-to.'
Farah will have another chance to be selected for the Tokyo Olympics with a special invitational race at the British Championships later this month.
Source: Read Full Article