It's been a hard summer for many. With lives and homes lost in raging bushfires, people affected by blankets of thick smoke and many mourning the loss of wildlife, it hasn't felt like a holiday season.
But for those who have had a break, or managed to savour the joys of the festive period, buckling down again and re-engaging with your usual routine can feel like a slog. Psychologist Marny Lishman can relate. "The thought of going back to the daily grind after having a taste of not only living differently but – for many – relaxing more, is actually quite difficult," she says.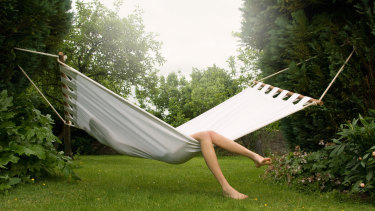 Head to your pool after work to do laps, or venture to a national park on the weekend.Credit:Getty Images
Sure, it might be a first world problem, one that only affects those lucky enough to have not been devastated by the current crisis. But for those returning from leave, the post-holiday blues can feel very real.
Amelia (not her real name) knows this first hand. The 48-year-old small-business owner loves going on holiday and tries to book one "big" resort-style escape a year.
Before jetting off, she spends months daydreaming about her trip, fantasising about lying by the pool while sipping cocktails. Yet she always feels down when her sojourns end.
On her most recent holiday to Thailand with her husband and two kids, aged eight and 10, Amelia felt the familiar prickle of depression creeping in two days before her return flight home.
"Even though I was still enjoying the holiday, I kept looking around going, 'I don't want to go back and face the day-to-day reality of life.'"
Once back on home turf, the post-holiday doldrums "really hit", Amelia says. "I felt quite flat and demotivated and just sad, I guess."
But you don't need to have gone away to be hit by post-travel gloom. Lishman says the doldrums are especially likely to strike at this time of year. "The post-Christmas/New Year blues are particularly hard because not only do we often have a longer time off work, but the lead-up keeps us on an anticipatory high prior to the time off," she explains.
Throw in the fact you're likely to have socialised far more than usual in that period, and there are no points for guessing why regular life seems dull.
Thankfully, there are ways to defeat this slump. Lishman suggests focusing on what you loved most about your time off, then trying to bring that into your everyday life.
For example, on holidays we're more likely to be physical, engaging in pursuits like swimming and exploring. So, back in your usual routine, she recommends amping up activity levels.
Sure, you can't scuba dive daily, but you can head to your local pool after work to do some laps, or venture to a national park on the weekend.
Another way to bring that "holiday feel" home is to retain some of the spontaneity and fun you bathed in while away, says Lishman. Check out local haunts; keep an open mind about meeting new people; say "yes" to offbeat invitations.
Then, try to hold on to the sumptuous joys of relaxation mode. Get plenty of sleep at night and rest when possible. Seek out soothing activities such as meditation and mindfulness. All these can help lower your stress levels to match your "holiday" self, Lishman says.
But if it's the socialising you're missing most, cultivate those feelings of connectedness by scheduling more plans than normal, says Lishman. Mix it up by having one-on-one time with friends as well as a smattering of group gatherings.
Consider diving into a new social pursuit, such as joining a book club.Or take a leaf out of Amelia's book and banish post-holiday melancholy by researching your next trip.
But, you may not need to, Lishman says. Pepper your life with the highlights of your time off and you'll no longer be overcome with sadness when real life resumes. Instead, she says, you'll be reaping "all of the benefits of holidays, every day".
This article appears in Sunday Life magazine within the Sun-Herald and the Sunday Age on sale January 26.
Source: Read Full Article